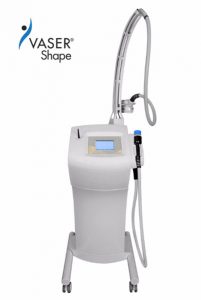 VASER Shape is a non-surgical solution to smooth and shape your body. It uses a combination of ultrasonic therapy and massage to smooth, firm, and shape the body by temporarily reducing the appearance of cellulite. The procedure targets your problem areas. VASER Shape can help your body's metabolism by increasing blood circulation in the area being treated. It can also reduce the pain and swelling that occurs after liposuction and other surgical procedures.
The best part? VASER Shape is completely non-surgical and non-invasive.
Ultrasound Therapy
The VASER Shape System uses low frequency ultrasound energy to treat the fatty tissue layer in a non-invasive manner, no incisions required. Ultrasound energy passes through the skin on the way to the underlying fatty tissue layer. The total amount of energy applied to the skin depth can be controlled based on patient comfort.
Zonal Massage
The vacuum handpiece on the VASER Shape System stimulates the lymphatic system to drain away excess toxins and lipids for removal from the body. At the same time, it increases local blood circulation. The zonal massage handpiece can also be used to help open the lymph nodes pre- and post-treatment.
Treatment Time
The average VASER Shape treatment time is about 1 hour per body area. This includes a complete treatment of ultrasound and massage. Treatments are usually scheduled one week apart. Most patients undergo a regimen of 4 to 5 total treatments.
In the News!
VASER Shape wins Best Non-Surgical Body Contouring Award

Body Sculpting – Vaser Lipo
For people looking for a little help with minor fatty areas vaser liposuction is an excellent choice. The procedure typically only takes a few hours. Ultrasound waves are emitted at the fat cells externally. The ultrasound waves liquify the fat cells. After the fat cells in the treatment areas have been liquified the doctor removes the fat cells and the saline solution out of the body, and your skin will appear smoother. It is versatile and provides a safe, effective and comfortable treatment experience because it is non invasive (no cuts, no incisions, and no surgeries), which typically means there is little to no recovery period and fewer side effects. Vaser Lipo treatments can be applied to different body types and can be used to treat body areas below the neck. Some of the most commonly treated areas are the abdomen, legs, flanks, arms, hips, derriere, thighs, and knees.