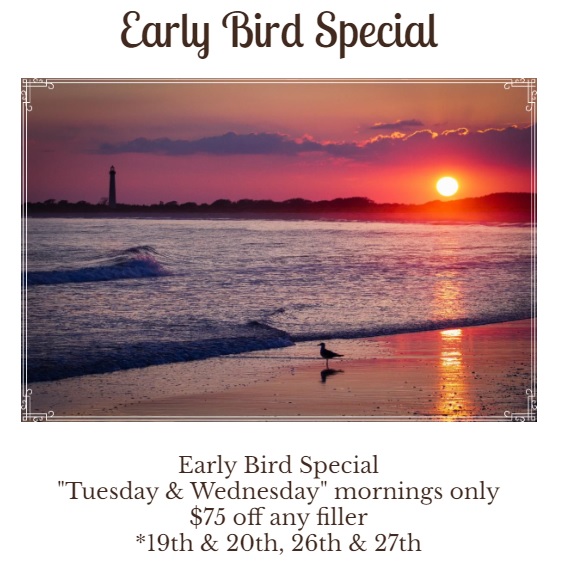 Get Skin fit for the Holidays
Botox $13 per unit
Don't forget to use your Brilliant Distinction rewards for extra discounts.
Clear & Brilliant $249 (reg. $299)
Clear & Brilliant is a unique treatment that uses safe, fractional laser technology to address early signs of aging skin. This treatment is for men and women of all ages and skin types.
Dermaplaning Facial $99 (reg. $129)
Facial will include cleansing, dermaplaning & hydrating mask. Dermaplaning is a physical exfoliation procedure, removing the top-most layer of dead skin along with fine, vellus hair (aka peach fuzz).
Hydrafacial – starting at $169 (reg. starting at $199)
This treatment deeply cleanses, exfoliates, extracts, and hydrates the skin utilizing super serums filled with antioxidants, peptides, and hyaluronic acid. Each Hydrafacial is customized to fit the clients needs.
Microneedling & Sensi Peel $199 (reg. $250)
Using the Collagen P.I.N. at a lighter depth, allows us to produce stimulation, very superficial to skin, coming back over with Sensi Peel. Leaving you firmer, tighter with a radiant glow and a cooling sensation. With no down time.
Repechage Vita Cura 5 Phase Firming Facial $145
Vita Cura 5 Phase Firming Facial is specifically designed to help invigorate, and tone appearance of mature skin. An Enzymatic Micro peel helps uncover a more even-toned complexion.Every step of the facial is a uni-dose preparation only opened and used at the time of the application.This facial is great for hydration and very relaxing.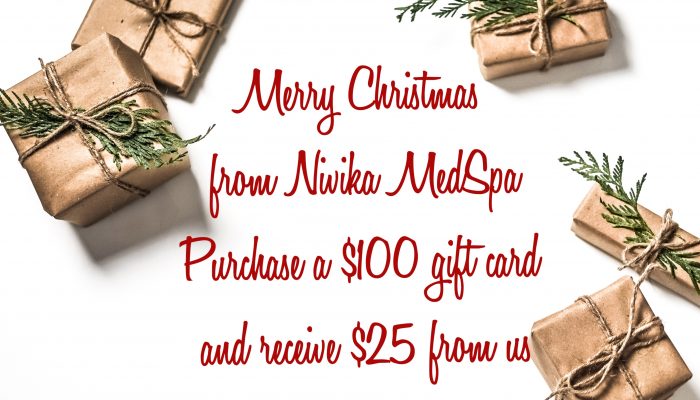 * $25 gift expires in a year from purchasing date.
INJECTABLES:
Botox
$15 per unit (Regular Price)
Juvederm Ultra XC
$700 – 1st syringe (Regular Price)
Juvederm Ultra Plus XC
$725 – 1st syringe (Regular Price)
Volbella
$500 – 1st syringe (Regular Price)
Vollure
$850 – 1st syringe (Regular Price)
Voluma
$875 – 1st syringe (Regular Price)
Belotero
$625 – 1st syringe (Regular Price)
Restylane Lyft
$725 – 1st syringe (Regular Price)
Restylane Silk
$650 – 1st syringe (Regular Price)
SKIN TREATMENTS:
ViPeel
$279 (Regular Price)
Vi Peel Precision Plus
$399 (Regular Price)
PCA Chemical Peels
$135 (Regular Price)
Dermaplaning
$99 (Regular Price)
Microdermabrasion
$129 (Regular Price)
LASER TREATMENTS:
Fraxel Dual 1927nm
$599 (Regular Price)
Fraxel Dual 1550nm
$699 (Regular Price)
Clear and Brilliant
$299 (Regular Price)
Laser Genesis
$249 (Regular Price)
Titan XL – Chin/Neck
$499 (Regular Price)
Laser Hair Removal packages are available
BODY CONTURING:
VASER Shape
$399/ area (Regular Price)
VASER Lipo
Starting at $3500 (Regular Price)
MISCELLANOUS:
Products
10% OFF all PCAskin and Obagi Products
Botox
Juvederm Ultra XC
Juvederm Ultra Plus XC
Belotero
Volbella
Vollure
Voluma
Restylane Lyft
Restylane Silk
$15 per unit
$750
$775
$650
$500
$850
$875
$750
$725
ViPeel
Vi Peel Precision Plus
Basic Chemical Peels
Microdermabrasion
Dermaplaning
Fraxel Dual 1927nm
Fraxel Dual 1550nm
Clear and Brilliant
Laser Genesis
Titan XL – Chin/Neck
Laser Hair Removal
$399/ area
Starting at $3500